Travel is not about souvenirs, but experiences that can change who we are and how we look at the world. Travel is so much about what you take back home with you.
You have your vacation rental ready for guests who are searching for an experience just like we mentioned. So how do you think your rental will affect them? Whatever area or city or mountain scape they visit, their home-base is where they reflect on adventures, share stories of their fun, and recap about the wonderful trip they are having. You and your rental may be more important than you think…
Here are four traveling families who shared what travel has brought to their life:
"Travel has made us all grateful for what we have. This gratitude begins at home. We've cut back on some expenses, like new gear and a schedule full of extracurriculars, to fund our family travels. And now, instead of complaining about
not having a new bike, the latest iPad or a new ski outfit, my kids talk about all the fun things we're going to do and places we'll experience together on our next international adventure. And while out traveling we've always talked (in child-appropriate terms of course) about the different ways in which we see people living around the world. We talk about everything from day-to-day activities, what we think the inside of their homes look like, and what they eat in other cultures as compared to our own. This puts our life back home in perspective and reinforces this gratitude."
"Well, we have a lot more credit card debt than we'd otherwise have…kidding! Not really! I'm still convinced that money spent on family vacations is money well spent. But back to the question.
Travel hasn't changed my family as much as it's enriched it. It's taught us there's a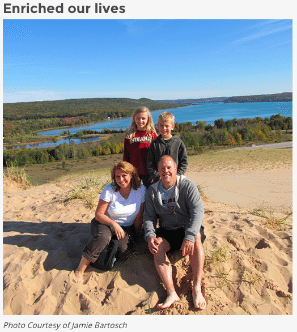 whole world out there, beyond our little suburban bubble. It's instilled in us a quest to learn about, and experience, new things – even things we didn't think we cared about, like the history of the St. Louis Cardinals (we're Chicago Cubs fans!), or how rainforest plants are used to make medicine.
The trips we've taken with my kids are some of our most cherished family memories, right up there with weddings and graduations. They're also fodder for fun "Remember when we were in…?" discussions at the dinner table. Surprisingly, what my 9- and 11-year-olds remember the most are not the big moments. Rather, they recall the small, not-as-planned, and even bad times as their favorite memories. Remember when that turtle slapped Dad's hand in Grand Cayman? Remember seeing the shooting stars in the Colorado Rockies? Remember the torrential rains in Walt Disney World? They remember. And I'll remember, too."
"When you travel with your kids, it's tempting to pack their entire bedroom, but there's no way you can bring every
comfort from home. It can sound cliché, but travel opens your eyes to what you need most. Sure, for some it may be a
family bed in a simple hostel, and for others it may be a suite with a balcony – but whatever the case may be, it's almost always less than you would have once guessed.
I find that, for us, travel has taught us to be more flexible and spontaneous. A rigid routine is one thing that our family needs less than we sometimes think we do."
"Since having my own kids, our travels have exploded! I wanted to get out and explore with my boys. If I was going to be home with them I wasn't going to just sit around the house or at the local playground. We were going to see the sights around town, and get in the car or on an airplane to see as much as possible.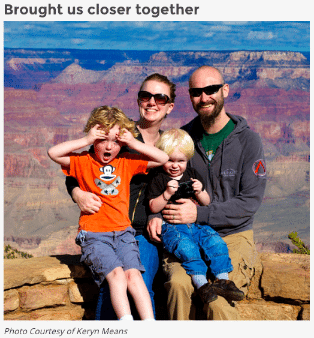 My husband works long hours for months at a time. Some weeks he really only sees the boys on the weekends. Travel is when we leave our daily lives back at home. No chores, no work stress, no lawns to mow; we simply hang out together. This undivided attention for our boys is key. They get all of our attention, and we, as the parents, remember what it was like to be a kid and just have fun.
We now prioritize vacations and use all of my husband's vacation time each year to make sure we are connecting on a regular basis through weekend wanderings, overnight staycations, day trips and 1-2 week long adventures across the globe. Before kids we would hoard vacation days. Now we spend them freely, knowing the time we invest in our kids through our travels is well worth any piles of work we may return to when we get home."
—
Through hundreds of hosts and thousands of nights, MyVRHost has become a preferred partner for vacation and short-term rental management. How do we do it? We maximize your income by hosting great guests, remove the headaches associated with renting out your home, and combine high-touch customer service with the most advanced technology and pricing algorithms. Simply put, enjoy your life and let guests enjoy your home.